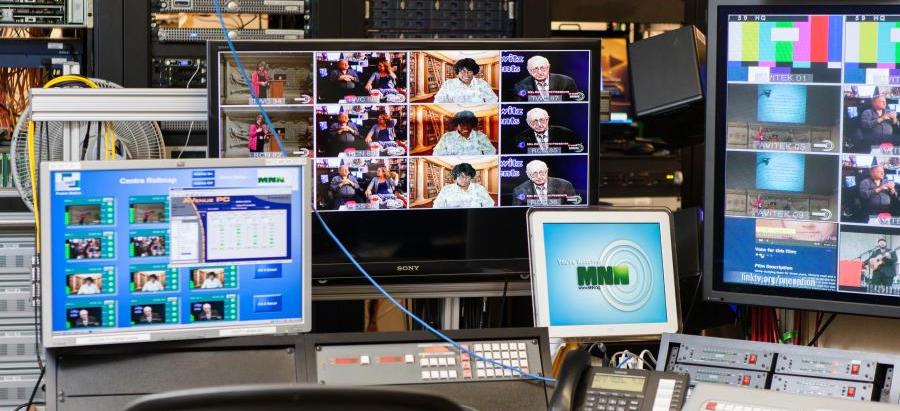 Access Center was created as part of Manhattan Neighborhood Network's continuing involvement in the Community Media Advanced project a multi-station initiative to run Community Media Centers using Drupal open source web software. Through this initiative, centers across the country including Open Signal, PhillyCam, RETN, and St. Paul Neighborhood Network – to name just a few – have worked collaboratively to build next generation software, using code that is free to all, in keeping with the ethos and spirit of public access.
How do I get an Access Center account?
Access Center is for current certified Manhattan Neighborhood Network (MNN) producers. If you have an MNN username or email on file with us, you should be able to log in. Or, learn how to get involved with MNN here.
On the home page, enter in either your 6 digit MNN ID, or the email address you've provided us with, and your password. Click "Log in"
How do I reset my password?
Go to the password reset page
Enter in either your 6 digit MNN ID, or the email address you've provided us with.
Click "Email new password."
A login link will be sent to your email address, if you don't get it within 10 minutes please check your junk mail/spam folder.
Click on the link within that email to log into the site.
At this point you should set a new password at least 8 characters long, including both numbers and letters for optimal security.
How do I sign up for certification classes?
How do I make a Reservation?
What happens after I make a reservation?
MNN staff will determine whether the requested equipment and/ or facilities are available within one business day, at which point you will receive another email confirming or denying your request.
How do I use Crew Connect?
Crew Connect helps MNN producers find a crew for their projects, and crew on other projects. All of those Crew connections are to take place onsite at either 59th St or the Firehouse, in either the studios or the edit labs, and are dependent on the requesting producer having first secured a confirmed reservation for the relevant facility. This video explains how to use Crew Connect:
How to use Crew Connect from Manhattan Neighborhood Network on Vimeo.
This FAQ did not answer my question, how do I contact MNN?
If you have any other issues not resolved in this FAQ please Email Us